Increasing student population from 7,000 to 10,000 within two years.
Regent University Virginia Beach, VA
---
Insight
The lack of channel diversification was apparent in our findings. The media mix used was highly dependent on paid lead vendors above all else. This created low lead costs, but even lower lead-to-enrollment ratios. Paid search was highly inefficient in the previous regime. Our biggest concerns were around wasted ad spend that was not attributed to driving enrollments. There was also missed opportunity to fully optimize campaigns with better account structure, quality score improvements, and bidding practices.
Impact
Becker's strategy was to rebuild the marketing funnel from top to bottom in order to grow the online population. To achieve this growth we focused on four key areas: (1) diversifying the media mix to expand reach, build awareness, and strengthen the brand and (2) optimize paid search and paid social media campaigns (3) create new landing pages to improve ROI. (4) optimize vendors to the highest intent audiences to improve lead/enrollment rates to drive down cost-per-enrollment.
In order to expand reach, build awareness, and strengthen the brand, we needed to decrease paid lead vendors where inefficiencies were clear, substantially increase presence on paid social media platforms, build out highly targeted YouTube & Display campaigns, incorporate programmatic digital buying with a focus on Connected TV, do a complete overhaul of paid search campaigns on a micro and macro level, and new landing page creation that focused on conversion rate optimization.
By consistently adjusting the campaigns based on real-time results, we were able to reduce the cost-per-lead cost by more than 50%, while increasing the lead flow by 142% in the first year. Additionally, we increased the campus population by over 35%, eclipsing 11,000 students within two years of the partnership and allowing the institution to make a contribution to the endowment for the first time in ten years.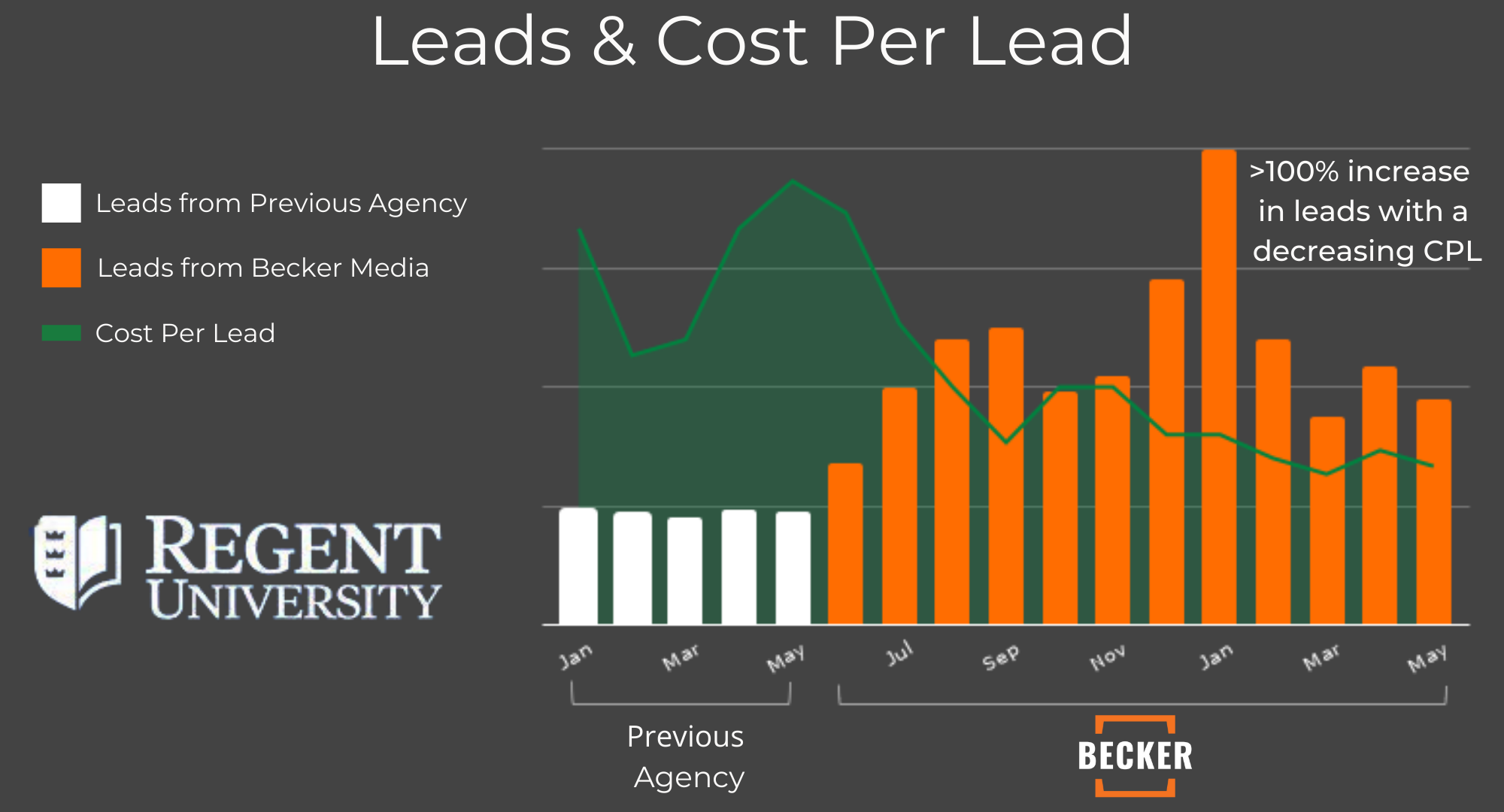 142%
Increase in Leads in Year 1