Driving enrollment growth and increasing ROI
FTC Orlando, FL
---
Insight
After an extensive audit of FTC's marketing initiatives, we found that the media mix was not optimized for maximum success, which was leading to missed opportunities and a lower customer experience. The market was very saturated by competitors, making it difficult to find FTC consistently with their narrow media mix. We also noticed that the campaigns for paid social media focused on the FTC brand and were not program-specific. Additionally, the data provided showed that the cost-per-enrollment for pay-per-lead inquiries was 45% higher than paid search and paid social leads, which historically don't convert to enrollments as well as search and social leads do. Lastly, we found that the website and landing pages were not optimized for a mobile-friendly experience.
Impact
Becker's strategy was to improve targeting for the Pay-Per-Lead channel in order to lower the cost-per-enrollment, grow paid search and paid social channels, expand the media mix to include more channels, utilize more specific audience targeting, and create mobile-friendly landing pages to increase the customer experience.
We eliminated the lower converting PPL vendors, allowing us to allocate that budget to the use of top-tier PPL vendors and build models based on proven key attributes. In addition to Google, we added Bing to the paid search channel, expanded the list of keywords and search terms to use more than broad match terms, we improved ad copy, ad images, and changed the geographic locations of targeting. Taking full advantage of machine learning was also imperative to the success of our paid search campaigns. Changing the paid social campaigns from 100% branding to program-specific ads allowed us to utilize paid social as a lead generation channel. We also expanded the media mix to include YouTube, and EDU specific sites to increase brand awareness. Lastly, we created mobile-friendly landing pages which made it much easier for potential students to inquire about the program(s) they were interested in.
In the first year of working with FTC, Becker was able to increase enrollments by 35%, while decreasing the cost-per-enrollment by 13%.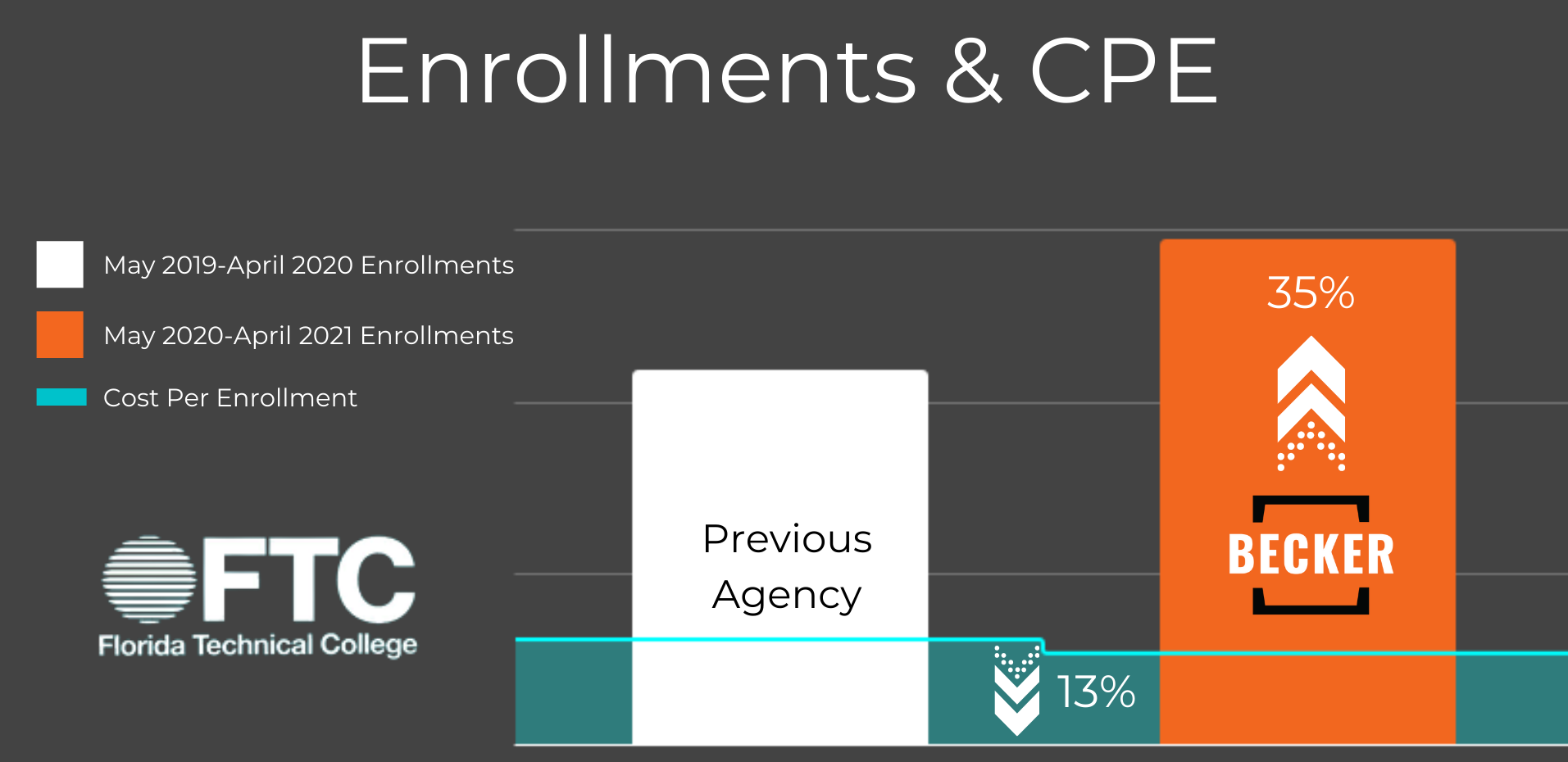 35%
Increase in enrollments in Year 1
13%
Decrease in CPE in Year 1